.

The Web Ring for

Gospel Music Sites from

West Virginia, Kentucky & Ohio !
Don't have your own web site ? Click here !

The purpose of the Tri-State Gospel Music Web Ring is to provide a continuous link to web sites of gospel music groups, artist, musicians, song writers, recording studios and others associated with gospel music who are located in West Virginia, Kentucky and Ohio. Now there is no need to search through hundreds of sites looking for folks from the tri-state area. If you are a gospel group, artist, musician, song writer, studio or have a site that pertains to gospel music in the tri-state, THIS is the place for you!
This web ring is a free program and is provided for the sole purpose of promoting gospel music, and those associated with it, in the tri-state area. All you need to do to join is make sure your site complies with the Tri-State Gospel Music Web Ring guidelines (as listed below), submit a request form ( you will also find that below) , receive your custom HTML fragment and add it to your web page then e-mail the web master that you have added it and just wait until you hear from the Ringmaster that you site has been accepted into the ring.
We say "Welcome" to the ring and may God be given the glory and honor in all that may be accomplish through Tri-State Gospel Music Web Ring.

Tri-State Gospel Music Web Ring Guidelines:

All sites must pertain to gospel music in either West Virginia, Kentucky or Ohio.

All sites must contain the correct Tri-State Gospel Music Web Ring code on the FIRST page of the site or the first page of your site must have a CLEARLY marked hyper-link to your web rings. No sites will be accepted unless this guideline is followed.

All sites must be suitable for viewing by children (no profanity or adult content sites)

The HTML code (that will be sent to you) must be inserted on your page and be functional before being added to the ring. When you receive your HTML code you will need to copy the Tri-State Gospel Music Web Ring logo (see below) to your web site. DO NOT link it back to this page.

Sites not abiding by the above rules will be removed.

Acceptance into the ring is at the sole discretion of the Tri-State Gospel Music Web Ring Ringmaster.

These rules are subject to change without notice.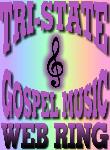 friends of Gospel Music Have Visited This Site !